Bruce Mines offers great walks and superb hiking. You can walk the streets of the town, amble along the miles and miles of well cared for country dirt roads, or hike through the forest along the Voyageur Trail.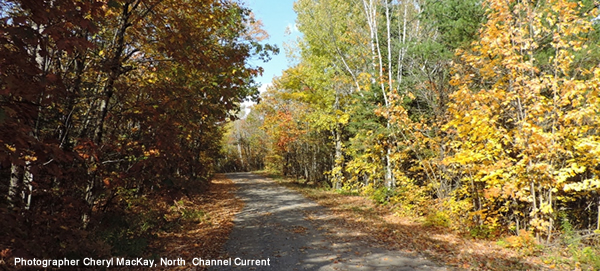 Items to take with you:
- Although you are unlikely to meet any bears, if you do, it is recommended you have a loud whistle or horn and/or bear spray to scare them off.
- Map of the area. The Bruce Mines Chamber of Commerce brochure has a good map of the area. Copies can be obtained from the Bruce Mines City Hall or from the Bruce Mines Museum. Alternatively you can download a copy of the map here.
- You are also advised to carry a compass or GPS and cellphone, in the event you do find yourself lost.
- first aid kit and fresh water.
- and don't forget your camera as there is always someting worth photographing!
Suggested Routes:
The descriptions are fairly detailed because we believe that when you come to a place you have never been before, you need detailed descriptions to get around. It is somewhat frustrating to be told that a place has great hiking, only to be told, "Ah, its just 10K that way, just a ways past the barn that was taken down a decade ago, you can't miss it!"
Route

Description

1.

Bruce Mines Town: A walk along Taylor Street or Bruce Bay Road offers a great view of the bay and a chance to see how the locals live. The Bruce Bay Cottages and Lighthouse – lighthouse on French Island offers a magnificent view of the lake and of St. Joseph Island. A walk along the rocks on the shore facing St. Joseph Island shows the rugged nature of the region.

2.

Historic Mine Trail: A 1 km trail with 4 sub trails from 100 metres to 300 metres
Entrance is on Hwy 17 just past the junction of Hwy 638. There is a map guide sign at the entrance or you can pick up your own paper map at the museum or the mine shaft.
It will take approximately 2 hours to explore all the sub trails.

3.

Voyageur Trail 1 (Forest among farms): Voyageur Trail Bruce Mines/Debarats, Access Point  A6 at the Plummer Cemetery. To get to the Plummer Cemetery from Hwy 17, turn onto Hwy 638 and continue for approximately 10-12KM to Rydal Bank then turn left onto Plummer Road. Proceed a furrther 5.5 kms then turn right onto West Side Road for 2kms. The Plummer Cemetery is on the right. The Voyageur trail section that runs alongside the north side of the cemetery was overgrown in June 2013 and has "Do not Trespass" signs posted from the local quarry. Use the access point across the road from the cemetery as this leads to a well maintained route, with a maple canopy.  There are numerous spur roads which offer great views of the local farms, lakes, and rivers and rolling hills. You can park at the cemetery.
4.
Voyageur Trail 2 (Forest and hills): From Hwy 17 turn onto Hwy 638 and continue to Rydal Bank (approx 10-12KM). Stay on Hwy 638 for a further 3 KM (approx.) to Ledyit Road. You can park on Ledyit Road, just in from the corner. The trail entrance is just across Hwy 638 and to your left. You must traverse a ditch, then walk along a path for some 40-50 metres. At the first opening, look to your right and, through the brush, you will see a sign on a large pine which reads Thessalon. The trail goes up from there to Humphrey Cemetery. The trail then continues on through a gate on the opposite side of the cemetery and proceeds through forest and hills all the way to Mount Zion Road. Whilst Ledyit Road to Mount Zion Road is about 3KM via HWY 638 the Trail path winds more so and is about 4-5 KM from Ledyit Rd to Mount Zion Road. It is, however, well marked with white flashes on trees and there are spectacular views from the rocks as you walk the trail. Alternatively, the Voyageur Trail proceeds in the opposite direction some 3KM along Ledyit Road and then into the bush. Again it is a nice walk along a dirt country road with views along the way.

5.

Bruce Mines (Town road and Country dirt road): This hike follows the alternative north exit from Bruce Mines. Walk north on Cunningham St (located beside the Red House Ice Cream shop on the North side of Hwy 17). When you pass Laird St., look to your right for a gravel road (Caribou Road) which heads out of town. It has recently been upgraded and is a nice walk as you pass fenced in old mine shafts and then walk through bush and farm land. You can walk along Caribou to Concession 5 Road (one way is approx 3.5KM), turn around and come home, or you can turn to the right along Concession 5 Road and hike over to the paved two lane Hwy 638 where you then turn right and head down toward Hwy 17, then right again back into town. The loop up Caribou, along Concession 5, and back along HWY 638 is about 7 KM long.

6.

Foster Trails, Desbarats. The Foster Parkland and Walking Trails are located on Mink Point Road, Desbarats, On. Mink Point Road connects with Highway 17 approximately 48.5 km east of Sault Ste Marie and approximately 17.5 km west of Bruce Mines. The entrance to the property is located on the west side of Mink Point Road approximately 350m south of the junction with Highway 17.

The trails provide access to two scenic lookout sites. One facing north and east towards the Desbarats River and Portlock Flats; the other facing soutwest to view the islands in the St Joseph Channel. Interpretive signs are placed along the trails so hike the walking trails to learn about the plants and animals on this 4o acre lot. And dont forget to check out the bird stand.


If you find any errors or additions, or know of any other local trails, send a note to info@brucemineschamber.com.